CONTENTS

We have owned a trailer since we were stationed at Oxnard AFB in Ca., which was in 1962. I bought my first one in Malibu Ca. I think it was 15 feet long with no toilet so I had to buy a Porta Potty for Millie. It was a bucket with a seat on it and a plastic bag that you had to dispose of after every use. We parked it in our driveway and it was such an oddity that most of the base joined us at Happy Hour each evening.
Our first trip was to Hemet, Ca. We parked in a parking lot at a lake. It was a drought year and the lake was about one quarter of a mile away. When we decided to leave, I tried to leave by turning it around, backing up and every which way, but I couldn't get out of the lot. To solve this I took a list of license plates, walked to the lake and asked all the people that owned the cars, to stop fishing and come up and move their cars so I could go. I wasn't too popular with that group.
We pulled that trailer to Virginia and stopped at all the national parks along the way. Great fun since Gail and Jay were old enough to enjoy the trip. In VA. we bought a new 21 foot trailer and made the trip to the Chesapeake Bay several times. It was very hot and humid, the traffic was ridiculous and it just was too much trouble to load and unload the trailer each Friday and Sunday, so we sold it.
We did without one for a few years but when we moved to Las Vegas, we decided that we needed one once again. We bought a 32 foot Silver Streak and put many miles on it. [over 140,000] It came in handy to use when visiting the kids, friends and going to the lakes and beaches. We normally stay at RV parks and at Military installations. I also joined the Elks so that we can use their facilities.



For many years we spent our summers in the Northwest fishing for salmon and making jam from blackberries, huckleberries, cherries, apricots, peaches, etc. etc. We have good friends in Wash. and Oregon and visit them every year.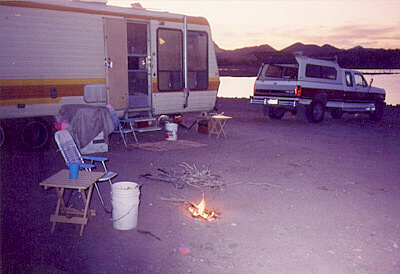 Our favorite Spot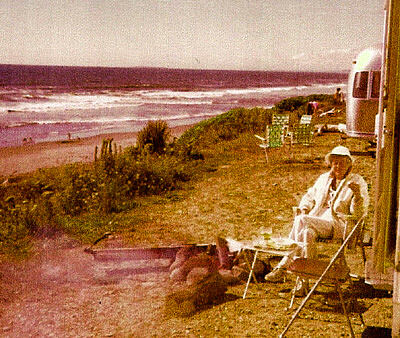 The refineries on Fidalgo Bay near Anacortes, WA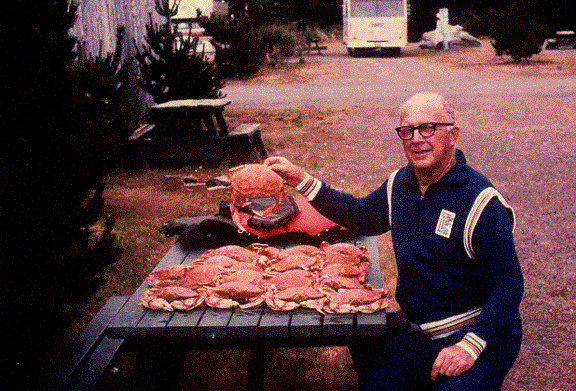 Crabs from the Nehalem River, OR


Probably our favorite spot is along the shore by the refineries at Fidalgo Bay, very near Anacortes WA. There is an open area between the road and the bay, that is wide enough to park your RV and many people do. It is a first come first park routine and when we get near there we always speculate that we may not get a spot to camp. We always have lucked into some of the choice places and have been able to save room for our friends The first order of business is to launch my boat and assemble our crab pots. I used to have a friend to whom I could trade my homemade jam for the salmon scraps from his fish processing plant. The scraps proved to be exceptional crab bait.
The crabs are plentiful and we always gorge ourselves, as soon as we can boil a load. Our routine is as follows; As the boat nears the shore we hand the bucket of crabs to one of the gals. She whacks it on the stomach, breaks it in half and cleans the gizzards out. This process takes about 30 seconds for each crab. The pot is always boiling and in go the crabs. Eleven minutes later we take them out, put them in cold sea water to cool and then start eating. Nothing tastes better, believe me.
At our campsite, which is at the waters edge, we watch the sea life on the shore. In the distance we can see Mt Adams and the snow covered Olympic Range. The pleasure craft that go to the San Juan Islands from Seattle, all pass about 150 yards off shore. They use the Swinomish Channel so as to avoid the very fast current at Deception Pass. It's a steady stream of beautiful boats and very interesting to watch.
We have been canning and freezing the crab meat but the results have been marginal. This past summer we froze the whole cooked crab and that seemed to make them tastier after they were thawed.
We still spend many of our summers in the Northwest doing what I call 'harvesting our crops' We pick cherries and apricots and peaches from the orchards at our friends, the Kanes in Wenatchee, WA. At Trout Lake WA., we pick huckleberries. Over at Anacortes WA., we catch lots of Dungeness crabs and pick blackberries. We salmon fish at Westport WA. and early most summers I go up to Port Renfrew on Vancouver Island, British Columbia and fish for halibut, salmon, sea bass, ling cod and red snapper plus again getting our fill of Dungeness crabs. We freeze the fish and make jam from the berries.
Many years ago, some of our friends from Washington would meet us at Westport WA. and we would spend the summer salmon fishing from their 24 foot boats. We gutted a refrigerator, installed a small hot plate and made a smoker out of it. We would can the smoked salmon and the fresh flesh too and even today, a good ten years later, the salmon is still very tasty.
We take this trip to avoid the heat in Las Vegas. Our free camping spot at the refineries in Anacortes, WA. is Millie's favorite spot in the whole world. We camp on the rocks along the shore. The tankers dock very near to our camping spot and we can watch them coming and going. All in all, a perfect spot to spend a couple weeks. By the way, camping is free due to the largess of Shell and Tesoro oil companies and the one half mile shoreline is always crowded with campers.




In 1977 we towed our travel trailer to San Diego to help Jay move all his belongings to Las Vegas. On the return trip, with Millie driving we came over Mine pass, 75 miles west of Las Vegas on I-15, at about 50 MPH. It was a windy day and as she started down the I7 mile grade, a small car passed her on the right. The next thing that she knew was the trailer, heavily loaded, in the air and passing by her window. The suburban flew 60 feet through the air and landed on the front left post. Note. After all was settled and we inspected the wreck, we found that the steering wheel was sticking out both the windshield and the side window. The 32 foot trailer went 120 feet through the air, landed on its roof and just exploded. I was knocked unconscious and Millie was crushed. Luckily, two Las Vegas nurses were driving by and stopped and attended to Millie.
Passers by called an ambulance and one arrived a short time later and took us both to the hospital in Las Vegas. Millie spent 13 days in intensive care. I stayed at Betty Kanigs house since we had no quarters and were waiting for our mobile home to be delivered. The one good thing that came of the mishap was that the Drs. used a portable x-ray machine on Millie and discovered that she had a shrunken kidney. This was later removed and her health improved remarkably. She is now about 2 inches shorter from the knock on the head.
Later on while trying to review in my mind what had happened, I came to the conclusion that during the split second when I felt the Suburban weave a little, I awakened and grabbed the steering wheel and spun it. The small tire skid mark on the highway and the way the vehicles reacted bears out my version of the accident. Mildred had her jade jewelry in the trailer and we never did find it, $10,000 loss.




We bought another 32 ft. Silverstreak trailer, a new Suburban and we were again trailering and back to our annual trek to Mexico.
During the years that we spent our winters at Rincon. I had a Suburban and we would take two couples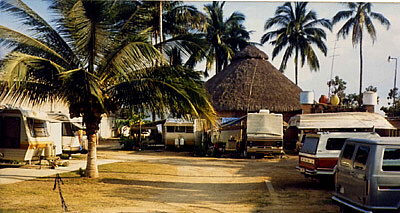 Tropico Cabana Trailer Park where we spend four months every winter for 17 years. Located at Rincon De Guayabitos, Nayarit, Mexico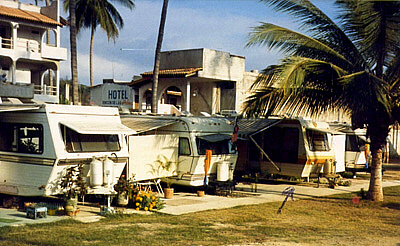 Tropico Cabana Trailer Park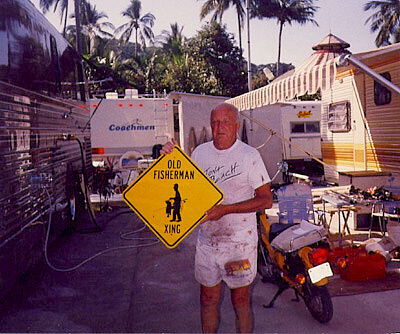 Guayabios, Nayarit, Mexico

with us and go on a two week trip through Mexico. Doing this we were able to see most of the interesting parts of the country. On one of these trips I kept a complete log of the roads, RV parks, lakes, Drs., communications, etc, and a tour company paid all my expenses for this information, presumably to plan for future RV caravans.
These trips were always fun and we enjoyed many memorable experiences.
Crossing through the mountains one day, we came to a place where there had been a landslide and the road was covered with fine dirt several feet deep. I could see where a truck or two had crossed so I decided to go too. We gingerly followed the tire tracks in four wheel drive, with rocks and dirt bouncing off my roof but we made it across. Kind of dumb but you can't be smart all the time. A few miles down the road we were getting low on diesel fuel. I noticed a large tractor or bulldozer along side the road and stopped to talk to some natives that were nearby. We made a bargain and they drained some diesel from the machine and I put it in my truck. Ingenious ??.
One night we stopped at a nice motel on the beach at Manzanillo. The next morning we saw a restaurant across the road with a large OPEN sign on it. We were all hungry so in we went. Most of us ordered eggs and ??. We waited and in about ten minutes we noticed our waiter going out the door. Again we waited and about ten minutes later he reappeared with a small bag in his hand. Our breakfast finally came and when we asked, he said that he had to go to the market to buy some eggs. Plan ahead.
A few days later we were going through a small town and traffic was hopelessly tied up due to somebody trying to make a U turn in the street with a boat behind him. Somebody had to do something so I got out and assumed the duties of traffic cop and untangled the mess.
All Mexican police carry a screwdriver and pliars. If you are illegally parked, they will take your license plates off and then you have to go find where they are and pay a fine of some type. Also, if you are stopped for any reason, you can do two things. Pay a bribe on the spot or indicate that you cannot talk Spanish and drive away. If you are in an accident or see one, keep going as fast as you can because if you stop, you are going to jail and stay there until the case is over and that could take months. It would not be a picnic to be incarcerated in one of their jails.
A note of advice to all drivers in Mexico. Keep an eye on the road behind you and if you see a bus or tanker creeping up on you, go as fast as you can until you come to a straight stretch of road and then keep to the far right and slow down to let him pass. He is going to pass you whether he is on a curve, on a hill or wherever. So a word to the wise. I have seen them pass when there was no chance of making it and you and the oncoming traffic have to stop or get off the road.
A friend from the states was visiting us and we drove her to the Guadalajara airport. We parked, probably illegally but her plane was due to leave in a short time. The plane was very late and when we went to leave, I saw my truck being lifted up to be towed away. There is one way to stop something from happening in Mexico and that is to wag your finger at the person. I did that when I caught their eye and they promptly lowered my truck and left it there.
Things change, a lot of our friends are dead, some no longer go to Mexico and everything is very expensive. It is very dangerous at times and just not worth the expense and trouble, so we don't go down their anymore except that I go to fish for bass at several lakes.



SEVERAL MORE MEXICAN ADVENTURES



Once, while alone on a fishing trip deep into Mexico, I was driving on a two lane road and up ahead I could see a lot of smoke where they were burning the weeds alongside the road on the left. I could also see that a large whirlwind or tornado was bearing down on me on the right side. The tornado sucked the flames across the road. With the smoke, fire, and dust coming across the road, I was blinded. I couldn't slow down for fear of somebody ramming me so I drove blind for about 3 to 4 hundred yards. More great fun.
A few years back I set out for Lake Novillo in Mexico. I had, in past years, been to the lower end of the lake and camped by the spillway. From there it was a five mile drive to the lake and you had to back through a tunnel in the rock mountain to get to the place where you leave your boat. I was told that a new road had been built to a small town near the upper end of the lake so I decided that I would try that route.
I camped one night at Walmart in Hermosillo Sonora, about 80 miles away so that I could get to the lake at an early hour and have my camp set up and boat launched. Good idea!. Off I went, early from Hermosillo, east to a small town of Metape where I filled with Diesel. I noticed in town that the new road was paved but there was no access there. I was then told that if I drove along a very narrow dirt road alongside the new road, I could get on it about five miles out. Sure enough, I snaked along this narrow lane and came to a spot where there was access to the highway. There were two workers at the fence and they lowered the gate and told me to go ahead.
This was indeed a pleasure, a new paved road and no traffic, I couldn't believe it. I went along for about ten miles and then the pavement ended but the road was graded OK to drive on??. I noticed a construction camp on the way but no activity there so I continued. After another six or so miles, I came to the crest of a hill and I could see the lake and the small town, my destination. All was well, I thought.
When I arrived at the bottom of the hill and about 100 feet from where the cross road headed to the lake and town, there was a 15 foot pile of dirt blocking the road. No exit!!. So, I figured that there had to be a side road somewhere close to the town and I would go find it. There was not enough room to turn my truck and 32 foot long trailer around so I started to back up the hill. I had to do this for over a half mile till I could back the trailer over the edge and proceed head first. Great !!, But, about another mile up the road they had piled another mound of dirt 15 feet high and I was in the middle.
Nothing to do but back down the hill till I found my turnaround spot again and then drive to the lower end and try to get help. I did just that and parked the rig there, climbed over the blockade and walked to the road below. In a few minutes, I was able to hitch a ride to town and to look for the police station to get some help.
I talked to many people and each one would take me to see someone else. They would tell all their friends of my predicament, have a lengthy discussion with lots of arm waving and shouting but offered no help except to take me to see someone else and not to the police station. Finally, one official said that he would go to the construction camp and get help.
Off we went in his pickup, turned into the brush near where the new road was, took down two fences drove through the desert and brush and ended up on the road where I was parked. We went up the hill to the next blockade and parked. He said that he would walk to the camp and try to get help.
He was gone about 30 minutes. When he returned he said that a worker would help me out by bringing a very large end loader down and clear the road so I could get out. But it would cost me !!. Here came the largest end loader that I think that I have ever seen. He cut a path through the dirt pile so he could get to the lower one and we all went down the hill.
The end loader driver made short work of cutting a path through the lower pile and I drove on. I had to pay him $30 for the effort but I thought that was reasonable considering the way that I was hemmed in.
At the lake there is a small campground with a caretaker and he helps launch and recover your boat, fillet the fish and is very helpful. Cost?, about $10 a day.
Quite a few Americans have houses in the area and they wondered how I got my trailer in. It wasn't easy. Now the problem was to get out. The guy who bargained for me said that he would make arrangements for me. A week later when I wanted to leave, he was nowhere to be found. Off I go to town to find help. The fish camp managers wife talked English so she was going to help me. We went to town and hired a young man to walk to the construction camp from the barricade.
Up we go through the desert, over two fences, onto the road and up to the barrier. This time my interpreter, her baby, her mother and the boy made it to the barrier. He had his instructions and off he went. We sat in the hot sun and waited. He returned in about an hour and said that the foreman would come down and meet me the next day at noon and talk to me and make arrangements to clear the road. OK, I should have known better from previous dealings with Mexicans but I had no alternative.
The next day I had to go to town and hire somebody else to go up the road with me. Thru the fences and brush, up the road and wait. Nobody showed up at noon. We waited several hours and sent the boy back up the road to the camp and when he came back he told us that the foreman said that it was impossible to clear the road for me. Great!. Back through the desert, over the fences and into town. I then went back to camp.
Now my options were down to three. One, wait till the road is finished in about six months, two, leave the trailer and go out in the truck or three try an almost impassable road with the trailer. I talked to several people about the mountain road and all said I could never get through. Then I met a guy who had just driven in, in his truck, and he said that I could get through. What the hell. What could I lose except the truck and trailer so early the next morning I started out.
Six rough miles along the lake to the village of Tupak where the mountain road started. The road really was impassable. Steep hills, sometimes on rock shelves for a quarter mile or so, tight curves where the water washed out the road, one lane all the way, no way to pass any oncoming traffic for a half mile or so, streams washing the road out, large rocks to drive over, etc. etc. I met one pickup and the three Mexicans wanted me to back up. Impossible, so I went inside my trailer and had a coke and relaxed. In about 15 minutes they decided that I wasn't going to move so they backed up a short distance and drove the pickup up a steep side of the road and I was able to pass them with just one inch to spare. At every turn you expected to see the end but there was the road going up another mountain.
It took me four and one half hours to go 13 miles, but I made it. Now, on the downward side of the Sierra Madres it was sandy and very rough, and my truck brakes failed. That took some driving skill until they started to work again. I never did find out why they failed. On into Hermosillo then 286 more miles and the next day 481 to Las Vegas.




I expressed a desire to drive to Panama but Millie kept worrying that it was too dangerous to drive alone. I noticed an ad for people to join a caravan that was going to do just that. I drove over and talked to the people and told them that I wanted a job with them. They said that the only position vacant was for a mechanic but if I took that job and learned the route, I could be Wagonmaster for the next trip. Great, imagine going where I wanted to go and also getting paid for it.
We met in Harlingen Texas and I inspected all 25 rigs for tires, coolant, etc,. Then the Wagonmaster gave us a briefing of the whole trip. We were to be gone 71 days and go all the way to Panama and back. I got free insurance plus $1500 when the trip was finished. I had to pay for my own gas and food and I was to bring up the rear of the caravan and aid anyone who had any problem.
We left a few days later with 25 different rigs. I had my 32 foot trailer and brought up the rear. This was great because I didn't have to leave too early and when the days drive was over, everything would be set up and I just had to drive in and hookup [if we had hookups]. In many countries we didn't have water or sewer or electric and at times we even told the people to pull to the side of the road and dump their holding tanks.
It was a very interesting trip and we saw all the tourist attractions enroute like the inside of a volcano, jungle animals, beaches etc,. We had one wreck on the way down when a fellow with a fifth wheel rig ran off the road and I stayed with his rig all night until the tow truck came the next day. There happened to be a stream there and I caught a few fish.
Every where that we stopped we would draw a crowd. The Pan American highway was in pretty good shape all the way. The customers were very sociable but just as in any group, they would pair off and stay together. Being alone I was invited to dinner quite often. The wagonmaster ran off the road too and ruined a wheel but the Mexicans worked all night and had made a new one by the next morning.
The weather was very nice the whole way. When we arrived in Panama we were assigned to a large open square downtown in which to park but I went out to the air base and stayed there for a few days. We also took a ride to Colon so I could see the quarters in which we had lived in 1947,8 and 9. The rest of the people went over to Colon by train and they were not allowed out of a fenced enclosure due to the heavy crime in the area.
The night before we were to enter the U S A we had a party and emptied all the odd bottles of liquor that each of us had left. Actually, it was a pretty good party. The rest of the trip back was quite uneventful and all in all it was a great experience. I would like to do it again on my own but I guess that will never happen. Don't get old!




In early 1999 I headed for San Antonio Texas to attend a reunion of my WW11 unit the 74th Tactical Reconnaissance Group. The 22nd Tac. Recce. Sq. of this group is the unit with which I flew my combat missions in France. I had been hosting this group in Las Vegas but the numbers had dwindled so I canceled any future reunions. One of the members insisted on having one more in San Antonio, so I drove over.
There were a few days to waste so I drove to Corpus Christi and camped on the beach. A very nice spot and I had a fire, couple drinks and enjoyed the evening. Heading into town the next day I saw a place where I could rinse the salt spray off of the rig, so I drove into the large barn like structure. I washed one side of the truck and trailer but the hose would not reach the left side so I backed out and went into the next stall, completed the rinsing and drove through, oops!!! not quite, seems that the roof was a lot lower than I thought and there went the trailers TV antennae system, the air conditioner and a large tear in the roof. There went $865 in repairs. Dumb again.
Millie met me in San Antonio but on the day of the reunion, the host went into the hospital and I had the job once again. It was enjoyable visiting with old friends but on the day that we left, he passed away.
Millie and I went to Corpus Christi for a day or two by the beach. While there we traded in our old trailer for a new 33' Tahoe. From that moment on we have had nothing but trouble and as of today we are still in litigation to recover my costs. So it goes. As of this moment we have the trailer but are not using it. (Oct 99)Note.
Time goes on and my Grandson Gregory Klatt is handling the legal part of the problem. As of Feb. 2000, I am supposed to receive a new 33 ft trailer. The Alpha Gold trailer had over 230,000 miles on it when I traded it in. It is now the end of April 2000, just got a call to pick up a new 33 ft trailer with a double slide out. So it goes.
P.S. We got the new trailer and the first day out on a trip to Carson City, We made a pit stop. I opened the door for Millie to go in, pushed the switch to open the slide out and the trailer filled with acrid smoke and I burned out every wire in the trailer. The factory towed it from Carson city to Riverside Ca [the factory ] and I got it back a few weeks later. I took it on a trip to British Columbia in July 2000. Upon return home I had 40 other problems and it is back at the factory to be repaired. Its now 15 Oct. and they still have it.



AN INCIDENT AT DAYTONA BEACH FLORIDA



During one of our sojourns through Florida, we came to Daytona Beach and decided to spend the night on the beach. This was permissible in those days so we found a very nice spot and parked the trailer so that we could see the sea and also sit outside in the sand near the water. For this beautiful view and being close to the water, it didn't cost anything.
After few drinks, a pleasant dinner and a few romps in the surf, we decided to call it a night. It was a beautiful night. All seemed well until about eleven P M, when there was a knock on the door. It was the police and they advised that, unless I wanted to take the rig for a swim, that I had better move since the tide was coming in and would be several feet deep at this spot in a few hours. We of course took their advice and drove off the beach. I can't remember where we found a spot to park but it was a lot dryer than the spot that we had been in.




Yes, another Florida Panhandle incident. This time it wasn't my fault but the results could have been disastrous for me. I don't remember exactly when this happened but I do remember the pain. Seems that I was driving along the gulf shore, probably north of Steinhatchee on highway 361. A remote road if there ever was one. I noticed a road toward the beach and decided to try and spend the night there.
It was kind of a dilapidated spot, nothing formal but there were several trailers and tents on the Gulf beach, so I found a spot under the palm trees and settled down. As the tide receded I noticed most of the people were walking in the very calm surf and obviously harvesting something. I of course investigated and found that they were mucking about for scallops.
Never having been someone to miss an opportunity for a free dinner, I took my cooler and waded out with the gang. Things were going well and I found a few scallops and put them in my cooler when all of a sudden, I had a very sharp pain by my left ankle. I hobbled to the shore and realized that I had been stabbed, with both stingers, by a stingray. To say the least, IT HURT LIKE HELL.
I was able to get to the trailer and somehow hooked up and headed for town to see a Doctor. [That wasn't easily done, believe me.] I drove to Perry Fl. and got to see a lady Doctor. Big deal, she gave me a shot [not whiskey] and that was that. On I went, up highway 19 and then west on 98. All the time my foot was killing me. At Tyndall AFB hospital in Panama City, they didn't know what to do, more pain pills. So on I went, still hurting. A stop at the Pensacola Naval Hospital didn't solve anything either, so I continued on. All the time the ankle hurt and was swelling.
The next day I drove like hell through Alabama and on into Texas. One more night of pain and swelling and now I could see a blue vein going up my leg. Scared me. I raced into San Antonio Texas, drove into the parking lot of the Air Force Hospital, ran into the lobby, saw two Major Doctors, pulled the leg of my pants up and said 'LOOK' The Doctor said, 'Admit him'.
Guess I spent three or four days there until the swelling went down and then proceeded on my way home to Nevada.




I took the trailer to Lake pleasant in Arizona to do a little bass fishing. I found a nice spot along the lake shore, launched the boat and went fishing. Not a bite all day. That night the lake rose 4 and one half inches. I decided to move it out of the area. I had to back up a few feet to make the turn and go up a rocky hill. I asked a man to watch to be sure that I didn't jackknife or sink in the mud. Less than a minute later the trailer was at a 45 degree angle in the mud.
Several people came down and tried to dig me out since my 4x4 wouldn't budge it. We put rocks boards etc, under the two right side wheels of the trailer, tried again, no help. Now I now had an audience of about 40 people. Here came another young man with some chains and another 4x4 pickup. He hooked onto me and I'm onto the trailer and we both try and all we do is spin wheels and the trailer won't move. We now decided that we need a tow truck.
I was driven to the camp headquarters and called USAA to get me a tow truck. They had to get one out of Phoenix, about 40 miles away. [Note; charges just to come out to the lake start at $ 250.] They arrived in about 2 hours and we started to try and extricate the rig. They put a 10,000 pound winch on the front of my truck and the only thing that moved was the tow truck. We both tried in low gear 4x4 and nothing moved. Now we are going to try and jerk it out of the mud!!! I pulled in 4 wd, the tow truck tied onto my springs with the winch cables and they backed up about 8 feet and ran forward at full power. After the third try, the trailer jumped out of the mud.
Now I am able to drive out of the area, load the boat and equipment and truck and I went to the Elks club in Tempe AZ. and spent the night.
Luckily, two days before I left to fish I bought towing and labor insurance in case Millie had a problem while I was gone. They paid for the tow. They also will pay for the bent bumper and probably bent frame on my truck. We'll see. Now it is 8 March and no new trailer and maybe I need a new truck too.




The new trailer was finally built but I had to go to Calif to pick it up. At home I loaded it with the necessary supplies and Mildred an I started up North to visit Jay Gail and to see Kims new baby boy, Skyler. [note- Skyler is only seven weeks old but he already respects military authority. Every time that he would cry, and no one else could calm him, I would pick him up and talk to him and within ten seconds he would become quiet]
Well I got the trailer back from the factory about a week later but there were still problems. Had them fixed locally and I still have problems. Enough of that. It's 4 July 2000 and we'll try it out in a week or so. Now it is April 2001 and I still have problems with the trailer. Ditto, Mar 2002 Here it is 2 years later and I still have many problems with the Tahoe. So it goes.




One of the dumber things that I have done was to take a three and one half month trip around the USA. I figured that at my age [81] that it would be my last chance to visit friends and relatives in the EAST. We hooked the trailer up, loaded with too much STUFF and headed out on 13 May 2002.South and East and our first major stop was in Del Rio Texas where I attended the 4080th U2 Squadron reunion. Met lots of old USAF friends and gave a short talk on the Silent Heroes of the Cold War Memorial that I am deeply involved with back in Las Vegas NV.
After a week at Del Rio we headed for New Braunfels Tx. There I got to fly in a Japanese airplane called a KATE. Virge Sansing and I flew in a formation of four planes over two military funerals in the area . Later on that day I gave a short talk on the Monument and the U2 to the pilots that were there.
Somewhere along the way Millie went out for a smoke at night, tripped and ripped a 4 by 3 inch strip of skin from her leg. This plagued her for the next 5-6 weeks with numerous visits to clinics and Doctors to keep it from being infected.
On into Florida where we visited two couples that Millie and I had double dated with way back in the early 40s.The Bennis and Haas familys. All were in passable health. Then from Orlando, we flew to Spokane WA to attend the 50th wedding anniversary of our good friends the Strattons. While there we took a drive to Wenatchee to visit the Kanes and pick up 20 lbs. Of there delicious Bing cherries. Back to Orlando. In Melbourne we visited with Grabby Robertson, the widow of my first boss at the shipyards in N J, in 1938.
We were able to also visit with Donna and Randy, my brother Georges children. On up the coast to Savannah Ga. The truck was acting up and Millie wasn't feeling too good so we went to a very nice state park and stayed a week. As Millie puts it, I needed something to do so I had a new motor installed in the truck. After a few visits to the Doctor, Millie was feeling much better so we drove on up to Smithfield, S.C.
Here, Millie was hurting again and her leg looked bad but it didn't hinder our trip. Our good friends Dolph and Sue Overton brought us dinner a couple of nights and a bottle of GOOD Bourbon. They also took us to the Doctor and hospital for Millie. A big help in a small strange town. From here we headed straight to the DC area missing visits to other very good friends. One can't do everything that was planned.
We camped AT Andrews AFB and Millie had a chance to rest while I contacted friends and CIA people nearby. Jay and Jan met us there and we went to a seafood restaurant near Annapolis for Blue Claw Crabs. OK but they were small and expensive. Guess that I am now spoiled on the Dungeness Crabs that we catch in Anacortes WA.
Our plans were to go to the NY-NJ area and visit Marion, Eleanor, boyhood friend Artie Meisenbacher, Coney Island and the downtown New York City area where I had many trips as the Federal Shipyards messenger back in 1938. Alas, we were tired, no place to park the trailer, horrendous traffic etc. Another reason why we tell friends, 'Don't go EAST'.We continued on to Pittsburgh and visited Dick and Carol Labuskus.
This was a pleasant visit with old WWII friends and a picnic with their friends in the hills of Pennsylvania. All in all a fun stop.
Now we are on our way to Wright Patterson A F B to visit the USAF Museum and make contact with MGEN Metcalf, the curator. I got to visit with him and learned of the Museum expansion, saw my Partial Pressure Suit Helmet on display and learned that they may display the full suit when the new hanger is opened in 2003. We'll see but I plan to be there since there will be a reunion of many Reconnaissance people from many different units.
Seems all our old friends are either dying, confined to rest homes or very ill. I won't list them but it kind of put a damper on the trip when we saw or didn't see them. Life goes on.
We're heading for home and while driving through the Midwest saw miles and miles of corn and soybean fields and then miles and miles of wheat fields. No wonder we can feed the world. On to Deer Lodge Montana and again bypassing lots of friends in the Denver, Colorado Springs area.
This was a highlight of the trip since we were visiting our Grandaughter Michelle, her husband Shane and their beautiful children Emma and Abbey. They are doing a wonderful job raising their family and integrating themselves in the community. We congratulate them for building a wonderful life for themselves and their children.
Remember, this is a very small town. I went to the local bakery one morning to buy a few doughnuts. The proprietor, a very affable man, asked me what I did for a living. I looked him in the eye and said 'I kill people', and walked out.
The next morning I again went in for doughnuts and there was a police officer sitting there having coffee.When I started to leave, he aked me 'How do you kill them?'. I answered 'with a gun' and walked out.I had planned further nuances for the next morning but didn't get to go there. The word spread 'There was a 'HIT' man in town'.
Several months later my son went to Deer Lodge to visit his daughter. He stopped in the bakery and asked the owner if he had seen a person fitting my description, a few months earlier?. The baker said'Oh I guess that you mean the 'HIT MAN'?. Why do you want him?. My son said ' I was just wondering' and left.
Over Christmas my grand daughters grandma went to Deer Lodge for a week. I mentioned the plan and she was going to go in and get some doughnuts and casually ask if I had been around. I don't have the results of that phase yet.
On to see our other grand daughter and family in Bend Oregon. We spent the weekend with Kim and Kevin Peterman and their two children. Gail and Manny drove up from Redding and we had a very nice time with the family.
After a week of relaxing, we stopped in Spokane at the Strattons. They gave us some frozen packets of fish and we have eaten several of them and wish that we had more. Further West to Wenatchee WA. to visit the Kanes and then on to Hansville WA. with a stop at the Karsts. These are very good friends. Again we were given some fish, Alaskan salmon and halibut. These also were very delicious. By this time we were very weary and canceled out on a rendezvous with Jay and Jan at Anacortes to do some crabbing. On to Las Vegas.
We arrived home on 30 August after driving 10,600 miles in 117 days. We were happy to return but it took us about 4 days to get stabilized again. Vicki had the house nice and cool and we both said 'Never Again'. Too Much for 'Old Folks'.

---
CONTENTS