CIA A-12 Pilot Ken Collins Enshrined in KAHOF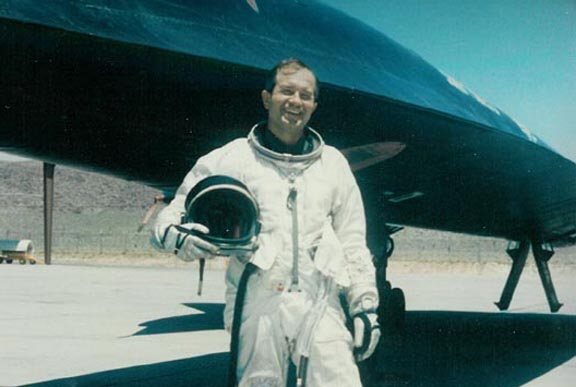 USAF colonel and CIA A-12 Blackbird pilot Ken Collins inducted into the Kanas Aviation Hall of Fame
Rushing back from Paris, France where Colonel Collins spoke at the Aeroclub de France re the A-12, he honored all Roadrunners by his being enshrined into the Kansas Hall of Fame. His Hall of Fame plaque is on display at Topeka's Great Overland Station railroading museum at 701 N. Kansas Ave. in Topeka, Kansas. Following his induction, he returned to California where he spoke on Veterans Day in Redlands.
The Kansas Hall of Fame selection of Colonel Collins to forever be enshrined as one of Kansas' aviation heroes and legends is well founded. Born in Leavenworth, Kansas, one of the oldest Army Posts of the new western frontiers, Collins has following in the esteemed tradition of his heritage. His grandfather, Sergeant Edward E. Collins of the 10th U. S. Cavalry, was sent out with the Troopers to fight in the Battle of Wounded Knee.
In 1953, Collins was flying out of Kimpo Air Base in Korea with the 15th Tactical Reconnaissance Squadron, "Cottonpickers" K-14, Kimpo, Korea. He departed Kimpo on a flight of two RF-86A's marking the target for F-80 Fighter bombers and strafing the North Korean radar site on a hill north of Pyongyang. On a stating run, Collins took fire and miraculously survived to bring his badly crippled plane back to Kimpo.

< It was reported that he was shot down behind enemy lines. For his heroics, Collins was awarded the Silver Star.
Ten years later, on 24 May 1963 - near Wendover, Utah. Collins was flying "a subsonic J-58 engine test flight in a ultra secret CIA A-12 when a icing problem caused the plane to stall and pitch up and over into an unrecoverable flat inverted spin. Having no positive idea of his real altitude, Collins was forced to eject from the inverted aircraft.
In 1967 Collins was one of six CIA A-12 pilots deployed operational with the A-12 to Okinawa where he flew six A-12 combat missions over North Vietnam to locate enemy SAM sites and to determine if the enemy possessed SSMs. For this he was awarded the CIA Intelligence Star for Valor. Collins' Military Awards include: Silver Star,
Intelligence Star, Legion of Merit, three Distinguished Flying Crosses, three Air Medals, United Nations Service Medal, Korean Service Medal, Viet Nam Service Medal. More about Colonel Collins is posted at: http://roadrunnersinternationale.com/collins.html